If you're planning on a proposal in the near future, now is the time to do your ring research. 2017 looks like it might be the best year yet to get engaged!

Then and Now…

A sweet proposal with a classic diamond ring first became a real tradition back in the 1930's. But more recently - especially since the explosion of Pinterest - engagement rings and their coinciding proposals have garnered a great deal of hype and attention, becoming an even more significant milestone for newly engaged couples around the globe. (If you or your future-betrothed has an entire Pinterest page dedicated to a future diamond ring, then we're sure you know what we're talking about. :) )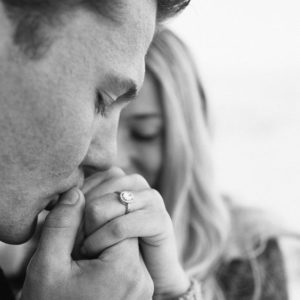 Now, rings are being more thoughtfully crafted and proposals are being more creatively planned. Need proof? #RingSelfies has been tagged over 27,600 times on Instagram. And that number is growing by the day!

Due to this rapidly rising trend, the diamond industry and its jewelers have been challenged to grow alongside it. The technology being used in ring design and diamond shopping has quickly advanced, and the popularity of custom designs has greatly increased -- all of which have made for a more important role of the diamond jewelers who are making the rings.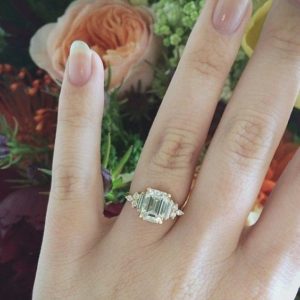 What does this mean for you? The combination of this progressive technology and the growing demand of one-of-a-kind diamond rings has created a new wave of engagement rings that have never been more stunning and affordable. So if you're looking to get engaged this year, congratulations! It's your lucky year.

To capitalize on this ideal engagement timing, here is the most important thing you need to know:

In 2017, your jeweler will matter just as much as your engagement ring.
Custom ring design is becoming more and more accessible to ring shoppers - even those on an extra tight budget. In fact, more and more couples are choosing to forgo the popular, name-brand diamond stores and, instead, find a more local jeweler who will create a one-of-a-kind engagement ring unlike anyone else's.

That's why one of the biggest trends you'll see this year is the more intentional and careful choice of the diamond jeweler involved in creating an engagement ring. In fact, instead of going from store to store in search of the right ring, more people are going from store to store in search of the right jeweler -- the idea being that the ring has yet to be constructed, either in part or in whole, so what matters most is the person you'll entrust with that meaningful work.

Feeling like this adds even more pressure? We get it! Finding the perfect ring already entails a certain level of stress...Add to it this new trend to be unique? Well, it may make the process seem even more overwhelming and intimidating.

But here at Freedman Jewelers, we don't think it has to be. We still believe that finding your ring should be stress-free and easy. So regardless of the jeweler you choose, we've compiled a list of helpful tips to guide you in the process - because, again, what matters most is that you are happy with both your ring, each other, and your jeweler.

4 Key Things to Look for in Your Engagement Ring Jeweler:
You should feel completely comfortable and at ease with your jeweler, from the moment you walk in until the moment you propose. You should never feel pressured to spend more than what your budget can afford. And you should always feel like your jeweler has your best interests in mind, whether you're choosing a ring from their existing inventory or creating one with them from scratch. Enjoying the process is important, so find a jeweler who you will enjoy working with.


You should always ask a jeweler about their experience and level of education. While you do want a jeweler who uses advanced technology and offers the best options in terms of the custom design process (such as wax molds, CADs (computer renderings of the ring) , 3D printing, etc.), it's equally as important that a jeweler's history and personal experience matches their technological capabilities.For example, it's crucial that you find a jeweler who is a GIA-certified gemologist and, ideally, one that has been in the diamond business for years. Look for jewelers who seem to have many lifelong customers - customers who have returned for years to come when shopping for fine jewelry. After all, for a piece that's as important as your engagement ring, nothing is better than feeling like your jeweler is a friend once it is time to propose.


Everyone wants to go above and beyond for the love of their life when popping the question, but the reality is that for the majority of ring shoppers, price is at the top of the priority list. It's likely that your engagement ring will be one of the most expensive purchases you've made to date, so be sure you're getting the best price possible and that you trust your jeweler in the way they do business.


Lastly, whether you end up going the custom design route or picking an antique ring from a jeweler's case, it's perfectly normal for it all to feel intimidating and overwhelming. So find a jeweler who will naturally walk you through the process step-by-step, and prioritize your comfort and satisfaction over everything else.We hope these tips help you navigate the search for your perfect engagement ring as well as the best jeweler for your needs. Remember: While the world of diamond shopping and ring buying may have evolved over the last few years, the purpose and meaning of an engagement remains the same - a gift and gesture rooted in love, commitment, and hope. And something that special is worth doing right.
So, cheers to a sparkling 2017! And as always, should you have any questions or need any help in your search for a ring, never hesitate to reach out. We're here to help however we can!
Sincerely,
The Freedman Team
SaveSaveSaveSaveSaveSaveSaveSaveSaveSave