When you first begin your search for the perfect engagement ring, it can feel like you're looking for a diamond in the rough…literally. With hundreds of styles and millions of diamonds to choose from, the process can seem overwhelming. Here at Freedman Jewelers, we get that. And we understand that the meaning and value of an engagement ring carries a lot more weight than just in its carat size. That's why we've made it our goal to help ease your stress and narrow your search, regardless of where you ultimately decide to buy.
Where to start?
The very first place to start in finding the perfect diamond is actually with your (soon-to-be) betrothed. Remember, an engagement ring is forever. And with something as important as forever, chances are that the love of your life has some kind of idea about what they might like…if not a Pinterest page chock-full of very specific inspiration they're hoping you'll "stumble" upon throughout this process.
If you're set on keeping it all a surprise, start by secretly reaching out to friends and family members who might have the inside scoop. If you tend to be more open, start with a conversation about what that dream ring might look like – and take notes! Or, meet in the middle! Plan a "diamond date night" to browse rings together, talk about styles, or even stop into a store like ours to try a few things on. From there, you can make the rest a surprise!
Where to buy?
Once you've got an idea of what you're looking for, the next big decision is figuring out where to buy your diamond and/or your setting. This part of the process often feels like one of the biggest hurdles to overcome, and perhaps you can relate. Have you ever asked yourself, "Should I visit a local jeweler?" or "Should I shop for a diamond online?" or "Should I just listen to that catchy commercial jingle and go to the chain store to buy my engagement ring?" If you have, don't fret. You're not alone! And not only do we have some answers for you now, our goal is to ease your worry and answer your questions every step of the way, so that this can be a fun and memorable process for you (instead of a stressful and overwhelming one).
And why?
The truth is there are a hundred different ways to go about finding your perfect ring. And here at Freedman Jewelers, we believe there's no wrong ring, as long as it's found and purchased with love. That said, with over 70 years of experience in the diamond business, we're also confident in our ability to help narrow your search and guide you through the process – from the very beginning to the end of the aisle. So without further ado…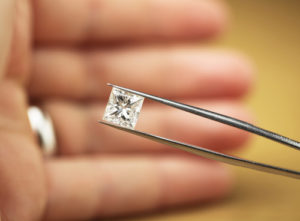 To put it simply, it is very important to see a diamond in person before you buy it. While we completely appreciate and understand the ease of high speed internet and online shopping – especially for the younger tech-savvy generation... The truth is that when it comes to diamonds, there is so much to learn and experience in person…things you just can't see on paper or online. Plus, the expert guidance of a jeweler who knows diamonds and designs rings is truly invaluable.
Here's why:


The naked eye is more powerful than you think.
If you've learned anything about diamonds thus far, you probably already know that you can't rely on your naked eye alone to judge the quality of a stone. And, while this is undoubtedly true, the isolated usage of this fact is contributing to a recent development of a new misconception – especially with the growing popularity of diamond and ring selling websites.
Here's the misconception: As long as a diamond is certified, there's no real need to see it and hold it in person before buying it.
Here's the truth: While a diamond certification certainly provides vital information about a stone's quality, a piece of paper simply isn't enough to rely on alone.
Here's the reason: A piece of paper isn't enough to feel the weight of a diamond in your hand and appreciate its unique beauty. It can't show you how light bounces off each facet. It can't convey how its personality will change when tried in different settings. It can't sparkle. And it certainly can't move you to tears the way a real diamond can when you envision proposing with it.
The naked eye truly is more powerful than you think! And in order to really gauge a diamond's true quality and authentic beauty, it has to be seen in with that eye.


Not all diamonds look the same -- even if they have the same certification.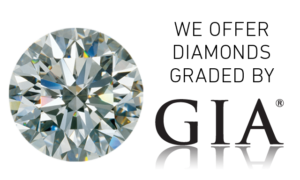 Perhaps you're already aware how diamonds are certified. If not, here are the basics: After a diamond cutter transforms a rough stone into a faceted gem, they send the diamonds to a certification lab. At the lab, a gemologist measures and analyzes each diamond – giving it a list of grades based on its carat size, clarity, cut, and color -- otherwise known as "the 4 C's." The grades are then documented in a certificate, and based on those grades, the diamonds are priced and sold.
Quick Tip: Not all certifications are created equal. At Freedman Jewelers, we only sell and recommend gems that are certified by the Gemological Institute of America -- founders of diamond grading and "the 4's C's." While some labs aren't always reliable and/or may be paid for their services, the GIA is a nonprofit organization that's been committed to objectivity and independence since 1931. So when choosing your diamond, be sure it's been certified by the trusted GIA.
Here's what you might not know: While a diamond's certificate and coinciding grades help differentiate one stone from another, the reality is that two diamonds with the very same grades might look very different in person.
Here's an example: "Diamond A" and "Diamond B" are both categorized as an "SI1" in terms of their clarity -- this means a gemologist can see one or more imperfections (or inclusions) when looking at the stone through a 10x loupe (or diamond microscope).

"Diamond A" has 3 small, white inclusions that are off center and difficult to see.

"Diamond B" has 1 larger, black inclusion on the edge of the stone that is stark and more visible.
In this case, the imperfections between the two diamonds differ in size, color and shape. And it is the details of the imperfections that change and affect the way each diamond looks -- especially when considering the clarity.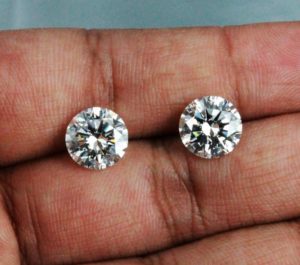 How? The brilliance (or sparkle) of "Diamond A" may not be as significantly affected by its imperfections as that of "Diamond B" because it's flaws are white instead of black. But while less noticeable, given where they are in the gem, there may not be much a jeweler can do to disguise them. The location of the inclusion in "Diamond B," on the other hand, might allow a jeweler to hide it behind the prongs or setting of its ring. That said, in some cases, when an inclusion falls too close to the edge of a stone, it can negatively impact its durability over time, which is yet another factor to consider.
The type and location of a diamond's inclusions are just two of many factors that affect the way diamonds look in person. And what many people don't realize is that a diamond's certificate won't include specific details about its inclusions or flaws -- such as their color, location or shape. So even if given the exact same clarity grading, the complete appearance of two diamonds can only be assessed in person.
So remember: diamond gradings should really only be used as a guideline in tandem with evaluating and comparing the gems in person. And while we can't deny the efficiency and the comfort of browsing online from home, we can guarantee that the value of visiting a trusted diamond jeweler and seeing everything with your own eyes will far outweigh any inconvenience.

Quick Tip: If you do plan on shopping for diamonds online, be sure to keep the above in mind when comparing prices. If two diamonds have the same specs and grades, but one is priced significantly lower than the other, there is a reason for the difference in cost. And while you might be drawn to the lesser expense, you may end up disappointed when you finally see the diamond in person.


Behind every diamond expert, is a proposal expert…especially at Freedman Jewelers.
Another common misconception is that if you visit a jewelry store in person, you might be pushed beyond your means or pressured to purchase. Additionally, some assume that buying online guarantees a more affordable price. But this, too, is a misguided assumption. Again, it's not to say you can't find a beautiful stone online.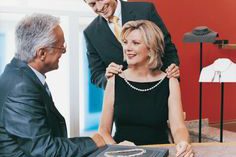 However, the truth is, diamond jewelers keep tabs on the pricing of all diamonds, including those being sold online. And the best diamond jewelers, like the ones at Freedman Jewelers in Boston, are not in the business of overpricing stones and making a profit by fooling a customer. On the contrary, the Freedman family is in the business of building lifelong relationships with their customers. And this includes offering similar prices to what you'll find online. In fact, Freedman Jewelers will not only respect the budget you've set for your ring, they'll go above and beyond to save you money and spare added costs wherever they can. Whether it means adjusting certain details or customizing payment plans, they'll work tirelessly to find your ideal diamond and create your dream ring -- delivering the best, in both value and design.

Quick Tip: Did you know that if you order a diamond online, but end up wanting to exchange it for something else, you will be in charge of the return shipping costs of that diamond? But if you make one trip to a shop like Freedman Jewelers, you can examine and discuss a slew of diamonds until you confidently settle on the perfect one for you – all free of charge! It's hidden costs like these that often go unmentioned or unnoticed, leading some to think the online process is less expensive than it actually is.

At the end of the day, of all the facts mentioned above, it truly is the jewelers themselves that make the strongest case for visiting a store in person when shopping for diamonds. Unlike online listings, the Freedman's are true diamond experts who also understand the the meaning of the very rings they are selling. Therefore, they believe in the value of integrity, and delivering impeccable service and undivided attention – for every customer, every time.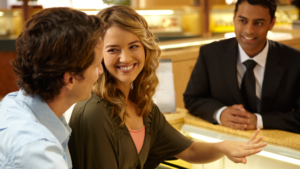 In fact, after over 70 years of experience in the industry, it's safe to say that the Freedman's aren't just diamond and engagement ring experts – they're proposal experts. You see, when you walk into the store, you won't just find a gemologist who can discuss every diamond and explain every inclusion. You'll find a real person who cares about you, the ring you want, and the special person you plan to propose to. Forever.
So, trust us on this one. There is something special about shopping, finding, and designing an engagement ring in person with an experienced jeweler like Freedman Jewelers – both for you as the buyer and your future fiancé. Visiting a jeweler demonstrates an element of special attention and extra care – two things that go a long way when it comes to planning and proposing (literally!) the most important question you'll ever ask. As always, if you ever have any questions or you want to speak with someone before making the decision to buy online or visit our store, please don't hesitate to give us a call. We're here to help you, every step of the way. Best wishes to you and your soon-to-be betrothed.

Until next time,
Annie
SaveSave