When it comes to deciding on an engagement ring's metal, the choice between white gold and platinum is one that most people debate. Both white gold and platinum have their pros and cons and Freedman's can always help with your decision on what to choose.  The choice between white gold and platinum should depend on multiple factors, which are listed below.
Basic facts to know about Platinum and White Gold

White Gold is composed of Gold and and alloy metal.


Platinum is almost pure, we use 95% platinum but 90% platinum exists as well


Approximately 2% of the population is allergic to nickel which is commonly mixed with Yellow Gold to make the white appearance


Both metals look about the same shade at the beginning but wear differently


white gold will tarnish (turn yellowish)


platinum will become a more dull / pewter shade



When it comes to the karat of White or Yellow Gold, the karat number stands for the amount of gold in that particular piece of gold. 10k=41% gold.. 14k=58% gold. 18k=75% gold.


Yellow and White Golds are weaker the higher the karats since it has a lesser amount of other metals mixed in. So, a ring of 14k Gold is stronger than a ring of 24k Gold. For rings, 14k or 18k Gold are most recommended by Freedman's so that there is enough strength to hold a diamond or other precious stones while still keeping the integrity of having a significant amount of Gold in the piece.
Pros & Cons of White Gold vs Platinum


Pros of White Gold


Costs Significantly less than Platinum


Weighs less than Platinum


Can rhodium plate the ring as often as you would like without hurting the ring
Cons of White Gold


Must be "dipped" approximately every couple years to keep yellow gold from showing


People can sometimes be allergic to White Gold since it is sometimes mixed with nickel to give it the white color.


Doesn't hold stones as well as Platinum does since it isn't as strong as platinum

To give you a general idea, normally white gold be will be $400 - $900 less than platinum for an engagement ring.


White Gold Before and After Re-Dipping:
Pros of Platinum


A stronger, heavier metal


Naturally hypoallergenic


Dulls over time but stays white and becomes a more pewter shade


Can hold gemstones in a more secure way


Don't have to clean as often as white gold
Cons of Platinum


Can scratch as easily as gold


Every time the ring gets professionally polished, it strips a layer away from the ring, making it thinner


Significantly more expensive than White Gold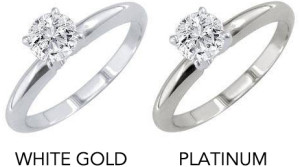 Both are great metals and we hope this information helps you with your decision. We are here to answer any of your questions via email at [email protected], 617-227-4294 or stop by our store in Boston.
SaveSave
SaveSave
SaveSave
SaveSave