Posted on
By Josh Freedman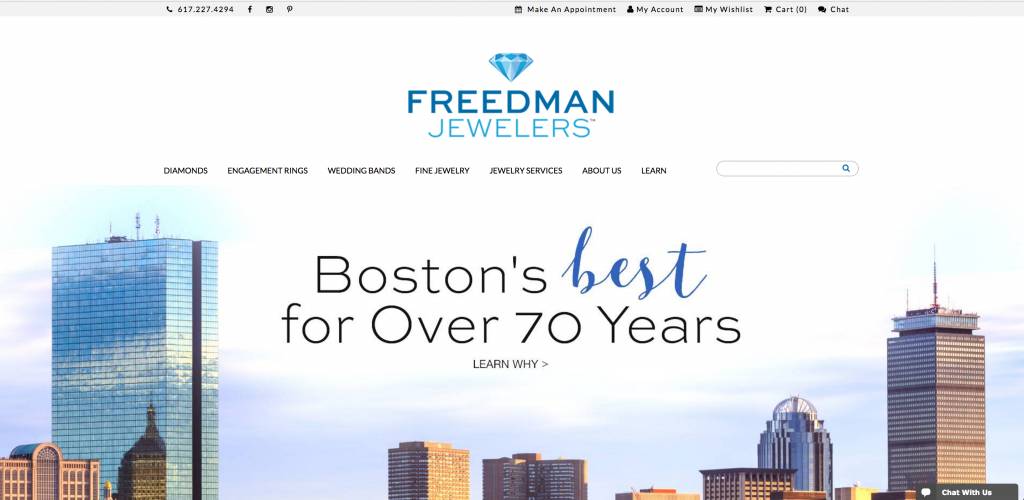 The Freedman team has been hard at work over the last few months and we are thrilled to be sharing some exciting updates with you. We hope these changes will serve to improve your experience whether you're visiting our store or shopping from the comfort of your own home or phone.
What's new? Our website!
We've rebuilt our website from the ground up and made some major changes.
1. The Design. First, you'll notice a whole new design to our site, from the look to the logo. While our roots run deep (almost 75 years), we also recognize the importance of progressive technology and staying relevant -- hence our new site! So we hope you enjoy the fresh and modern vibe.
2. Book an Appointment. Ready to come in? Planning your visit to Freedman Jewelers has never been easier! Simply visit our new website and click to book an appointment at a time that's convenient for you. You can even meet with the Freedman associate of your choosing.
Don't worry if you don't have time to book in advance! We still happily accept walk-ins and would love to have you anytime.
3. Chat! Whether you're looking for an engagement ring or that perfect anniversary gift, it's safe to assume you'll have some questions along the way. No worries there! We now offer live chat on our website, allowing you to speak with one of our very own diamond and jewelry specialists – without even needing to pick up the phone. Just visit our site and look for the chat box!
4. Blog. We are the first to acknowledge that buying diamonds and fine jewelry can be as nerve racking as it is exciting. That's why we emphasize the importance of education. The more you know, the more confident you'll feel!
Our new and improved blog serves to help you in that quest for information. The goal is to help you learn everything and anything you might want to know – without adding any pressure or persuasion. Check it out for in depth content regarding diamond education, jewelry care, and more.
4. Make a Wishlist! This may be our favorite new feature of all! As you browse our site, take notice of the small gray hearts located in the corner of each piece of jewelry. These special little icons are the key to unlocking your very own Freedman Wish List!
Begin by creating an account with us. (Don't worry – we won't use this information to send you any unwanted mail.) Then, as you find things you love, either hover over the item or click to view its details. From there, simply click on the gray heart and that coveted necklace or ring will automatically be added and saved to your Wishlist. Whether you come back to swoon over your "someday jewelry" or send the list to your loved ones (you know, as a gentle reminder for the upcoming holiday…) Your Wishlist is sure to come in handy!
5. Get Social! If you aren't following us on social yet, now is the time! We've ramped up our presence on Facebook and Instagram, and will soon be having some fun on Pinterest. Not only will our sparkling rings brighten up your newsfeeds every week, but you'll also get the chance to see some custom work, enter some giveaways, and stay up to speed with Freedman Jewelers events and happenings.
These are just a few site highlights! Be sure to check it out yourself to see everything we now offer online...including stunning new pieces we've been adding to our collection!