How to turn your Finances into a Fiance

 So you are taking the plunge.  The next big step in your life.  You are thinking of proposing!

 To propose, you will need some sort of engagement ring first.  Most significant others will want some sort of precious gemstone & metal to signify your eternal love for each other.  A ring pop won't suffice this time.


Here are 5 tips from a 3rd generation jeweler on how to prepare and what to look for in a diamond engagement ring.


1. Set a budget!

Like any major financial decision in life, planning is key. It does not matter what your engagement ring budget is; it could be $2,000, $10,000 or even $20,000. It's always good to think about how much you want to spend ahead of time so that you can start on saving and be ready when it comes time to purchase. Even if you don't have the highest budget, you can get a great diamond engagement ring for less than you might think (starting at around $2,000). Other gemstones can be equally beautiful and more cost effective as well.
Making a purchase of this magnitude can be daunting and without some direction, pretty stressful. An engagement ring usually comes with two parts: the actual diamond and then the setting. Some might wonder the appropriate ratio for spending on each and here is a pretty sure way to do it right. In terms of allocating your funds, spend at least 70-80% of your budget on the center diamond and the rest on the engagement setting. For example if you have a $5,000 budget, you should spend at least $3,500 on the actual diamond purchase.


• Keep in mind that an engagement ring is a lifetime investment and it's always better to invest the majority of the money you are spending into the actual diamond or other gemstone you are using for the center. A diamond can always be reused in jewelry and still have tremendous value later on if you chose to sell it.


• Styles change. Ten or twenty years from now, your fiance might want to reset the diamond. Having a stone of high quality always leaves room for the ring to be updated with the trends.
2. Get a certified diamond: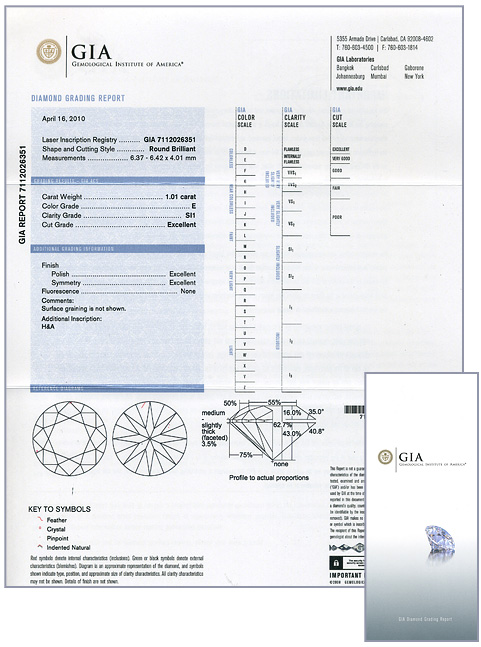 Now that you have gotten your finances in order and done some planning, it's time to go shopping! Nowadays any diamond that is of higher quality should be certified by an independent gemological laboratory. A lab report will entail a very thorough description of a diamond graded by a gemological company. A report will include carat weight, color, clarity, the dimensions of the diamond and other useful information pertaining to a specific diamond.


• The most credible certificate & grading laboratory iis called GIA (Gemological Institute of America) GIA is completely non-profit and unbiased in their grading of diamonds.


• There are other gemological laboratories that grade diamonds (such as EGL and IGI but they tend to exaggerate a diamond's color and clarity and not be considered as legitimate as a report from GIA. For example a GIA certified G color, SI1 clarity could be an E or F color and VS1/VS2 clarity with a lab such as EGL.
3. Go quality over quantity


It's tempting to go for the bigger size, but don't compromise at the expense of a diamond's color and clarity. A diamond's #1 reason for being the choice for engagement ring's is it's sparkle. If a diamond has too many flaws, called clarity, it won't sparkle. If a diamond's color is darker (yellow or brownish) it won't be as beautiful and will have a tine that is less appealing to the eyes. Going by GIA standards,


• The most credible certificate & grading laboratory is called GIA (Gemological Institute of America) GIA is completely non-profit and unbiased in their grading of diamonds.


• I recommend anything in the D-I color range (colorless, near colorless) and clarity in the VS1-SI1 range (very slightly included or slightly included, meaning no real flaws visible to the naked eye)I highly recommend seeing diamonds in person so you can see the differences in color, clarity, size etc. Every single diamond in the world is different from each other.
4. If you are on a tight budget, choose 14kt white gold instead of platinum.

The two most popular choices for engagement ring setting metals are white gold and platinum. Both metals will look exactly the same in terms of color from the beginning. 14kt white gold will be substantially less than platinum in terms of cost, usually about $500-700 less than the same ring in platinum.
Here are the differences:

Platinum is a stronger and heavier metal than white gold


Platinum is hypoallergenic ; gold by itself is hypoallergenic but when mixed with nickel to make white gold, it can cause an allergic reaction.


White gold will tarnish over time and turn a silver-yellowish shade ; platinum will dull down to a dull silver shade (both metals can be polished and their color will be restored)

If you don't view platinum's benefits as necessary, choose 14kt white gold and you can save some money.
5. Buy the diamond and the engagement ring setting as separate parts:

Be cautious of engagement rings already set up. Since the diamond is already set you can't be certain of its flaws. For example there could be an inclusion hidden by a prong that you may not know about. A diamond already set up may have inexact weight, color and clarity. When you buy the diamond and engagement ring setting, you are also in control of customizing your ideal engagement ring!
Final thoughts: Price isn't everything. Think about the other services offered

The bottom line price shouldn't be the deciding factor in your decision. Yes, price is very important and you want to get the most value for your engagement ring purchase, however you want to think long-term about your engagement ring not short term. One jeweler could be offering you a diamond engagement ring less than anybody else, but what are they offering beside the price. What kinds of complimentary services are being offered beyond the purchase of your engagement ring?


Will they re size your ring free of charge if you guess the size incorrectly? Will they fix the ring free of charge if something happens in the first several months such as a small diamond in the mounting falling out?
An engagement ring is a lifetime purchase and you will need maintenance over time. You want to make sure that the jewelry store you buy from has some sort of return policy and excellent customer service. You want to have peace of mind that you will be able to return your diamond if something goes wrong.


Is it family owned and operated or been in business for a long time? Do they have a good reputation and positive reviews online? If the answer is yes, then you are dealing with jewelers who really care about their business, their product and their relationship with their customers.
I hope this information helps and good luck with your engagement ring search.
If you have any questions you can contact me (Josh Freedman) at Freedman Jewelers. Email is [email protected] and phone number is 617-227-4294.
SaveSave
SaveSave
SaveSave
SaveSave
SaveSave
SaveSave
SaveSave
SaveSave
SaveSave